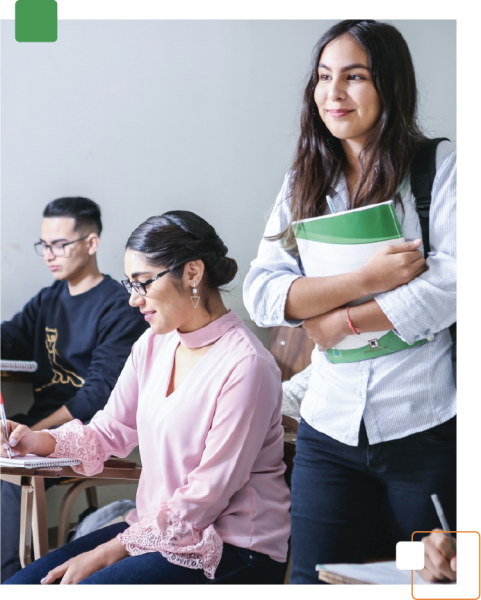 FGLI Thrive™ is an 8-module proactive mental and emotional wellness curriculum designed to help first-generation and/or limited income students successfully transition to college. Rooted in the fields of Positive Psychology, Mindfulness, and Self-Compassion, this curriculum is led by scholars, psychologists, and educators from numerous institutions across the country. Curriculum was developed in collaboration with Dr. Jo Ellyn Walker, Associate Director for Diversity Initiatives at Georgetown University.
1. Well-Being and Mindset: The Science of Well-Being and How to Create Positive Change
• Well-Being vs. Happiness
• Hedonism
• Flourishing
• PERMA Framework for Well-Being
• 3 Components of Subjective Well-Being
2. Stress and Resilience: How to Harness the Power Within
• Stress and the Stress Mindset
• Mismatch Theory
• Fight-or-Flight Response vs. Challenge Response
• Unique Challenges Faced by FGLI Students and Ways to Overcome Them
• Financial Literacy
• Tend and Befriend Instinct During Times of Stress
• Failure
3. Mental Health: Dealing with the Tough Times
• Mental Health
• Benefits of Therapy
• Cognitive Behavioral Therapy
• Culture & Mental Health
• Cognitive Load and How to Manage It
• Automatic Thoughts and Thinking Traps
• Negativity Bias
• How to Help a Friend in Need
4. Mindfulness: The Power of Moment-to-Moment Awareness
• Mindfulness
• Meditation
• Meditation, Culture & Identity
5. Self-Compassion: The Importance of Being Kind to Yourself
• Self-Compassion
• Self-Criticism and the Inner Critic 
• Perfectionism
6. Diversity, Equity, and Inclusion: Uncovering Biases, Embracing Differences, and Appreciating Commonalities
• Diversity, Equity, and Inclusion
• Color-Blind Race Ideology
• Implicit Biases
• Empathy
• Nonviolent Communication
• Ways to Celebrate Diversity
7. Relationship to Others: Connecting With Others to Thrive in College and Beyond
• Attachment & Equity Theories
• Benefits of Close Friendships
• Mentorship
• Building Social Capital
• Family Engagement & Boundary Setting
• Active Constructive Responding
8. Belonging & Relationship to Self: Capitalizing on Your Strengths
• Balancing Multiple Roles
• Sense of Belonging
• Cultural Mismatch
• Stereotype Threat & Impostor Syndrome
• Finding Your Unique Voice

Engaging
Instructional Videos

Instructive Experiential
Exercises & Practices

Relevant
Supporting Resources


End of Program Assessment

Certificate of Completion
How to Use the Curriculum
Our curriculum consists of digital content and a comprehensive instructor manual to facilitate group discussion. Curriculum can be integrated into credit-bearing courses, facilitated as student workshops, or offered as a self-paced certificate.