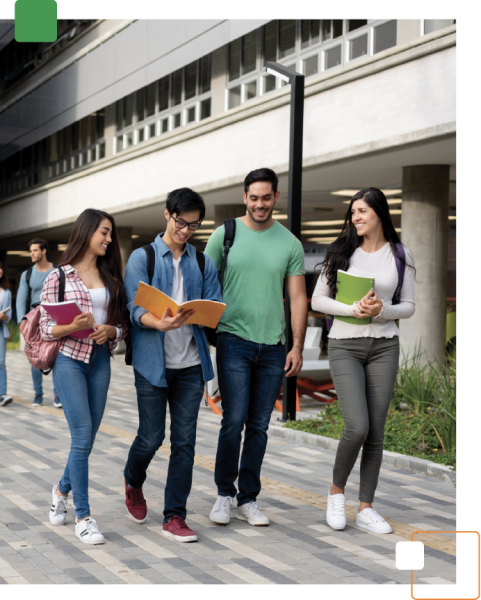 Life Skills for Thriving™ is a 16-module comprehensive program rooted in Positive Psychology, Mindfulness, and Self-Compassion designed to be used as a stand-alone credit-bearing course, or integrated into existing curricular and co-curricular programs.
This program is available as both an online-only curriculum, or a hybrid online/in-person format. The goal is to give students the tools and resources needed to better manage stress, improve resilience, and thrive throughout their undergraduate experiences and beyond.
Program Content by Module
Foundations of Well-being (Modules 1-4)
1. Thriving 101: An Introduction to Succeeding in College.
2. Beyond Happiness: The Science and Practice of Well-Being.
3. Cognitive Growth: The How, What, and Why of Creating Positive Change.
4. Mindfulness: The Power of Moment-to-Moment Awareness.
Mental Health and Emotional Well-being (Modules 5-8)
5. Stress and Resilience: How to Harness the Power Within.
6. Optimism and Pessimism: Making the Most of Your Perceptions.
7. Mental Health: Dealing with the Tough Times.
8. Positive and Negative Emotions: Using Your Emotions to Your Advantage.
Intrapersonal and Interpersonal Well-being (Modules 9-12)
9. Self-Compassion: The Importance of Being Kind to Yourself.
10. Relationships: Connecting With Others to Thrive in College and Beyond.
11. Communication and Transforming Conflict: Intentionally Responding vs. Reacting.
12. The Student Body: How to Fuel it, Move it, and Restore it for Optimal Performance.
Passion, Purpose, and Well-being (Modules 13-16)
13. Willpower and Choice: Doing What You Really Want to Do.
14. Signature Strengths: The Science of You at Your Best.
15. Goal Setting and Excellence: Realizing Your Potential In and Out of the Classroom.
16. Passion and Your Unique Voice: Doing What You Love, Discovering Who You Are.
If you'd like to know more about the specific topics included in each module,
please send an e-mail to [email protected]

100+ Engaging
Instructional Videos

25+ Instructive Experiential
Exercises & Practices

25+ Reflection Assignments


20+ Discussion Board Prompts

450+ Relevant
Supporting Resources
Accessible Design (ADA Compliance), Administrative View for Learner Analytics, All-In-One Calendar, Collaborative Tools and Activities, Completion Reports and Evaluations, Convenient File Management, Detailed Reporting and Logs, Embedded External Resources, Group Management, Modern, Easy To Use Interface, Multimedia Integration, Notifications, Personalized Dashboard, Responsive Design, Secure Authentication, Security and Privacy, Simple and Intuitive Text Editor, Track Progress.
Instructor-Led Wellness Curriculum
For institutions interested in facilitating discussions with their students on the topics covered in the Life Skills for Thriving™ program, comprehensive Instructor-Led Wellness Curriculum can be provided for an additional fee. Our Instructor-Led Wellness Curriculum requires no previous content experience and is designed to guide instructors through activities, prompts, discussion questions, and guidance on encouraging interaction among students for maximum retention of program material and fostering a sense of community.